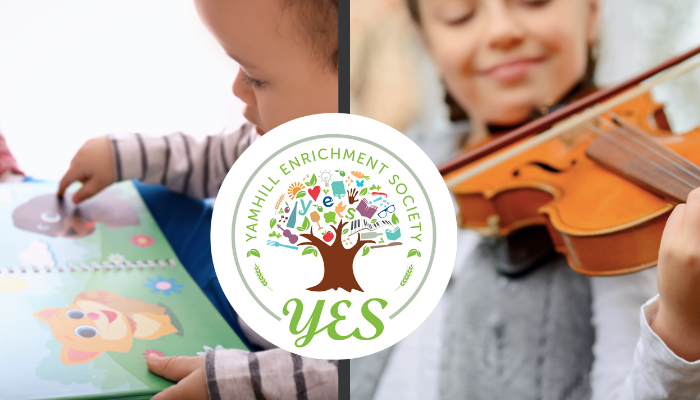 2023 Projects
---
YES transforms the lives of Yamhill County children through literacy and music enrichment without regard to the child's religion, race, ethnicity, language, citizenship, gender status, or ability to pay.
Books and music inspire the spirit and feed the soul.  In partnership with the community and proven programs, YES provides access to inclusive literacy and music programs that help children dream more, learn more and be more. Bounty of Yamhill County is the primary fundraiser to support our amazing programs.
Find out more at http://yamhillenrichmentsociety.org
Since 2013, YES has been putting books into the hands and hearts of children across Yamhill County. We partner with Dolly Parton's Imagination Library to provide a hand-selected, age-appropriate, high-quality book each month to registered children from birth to age five. YES has mailed over 240,000 books since the program launched!
Since 2017, JOY has been devoted to creating access to music and strings education to youth in Yamhill County. In collaboration with Yamhill County schools and their districts, we provide both In-School and After-School violin and orchestral programming to elementary-aged youth. JOY is a member organization of El Sistema USA and prioritizes its sites and programs to target students and school communities with high rates of underserved populations.
To date, JOY provides both In-School Violin and After-School Orchestra programs at Edwards Elementary in Newberg, which serve grades K-5. As a result of an increase of community interest, JOY began the kindergarten in-school violin program at Newby and Sue Buel Elementary Schools in McMinnville in Fall 2022 and is looking to add additional elementary schools in McMinnville in Fall 2023. 
Bounty of Yamhill County
Bounty of Yamhill County is both a project of and fundraiser for YES . In addition to raising funds for important YES projects, Bounty of Yamhill County presents an important opportunity to draw national and international attention to our unique and dynamic culinary scene.